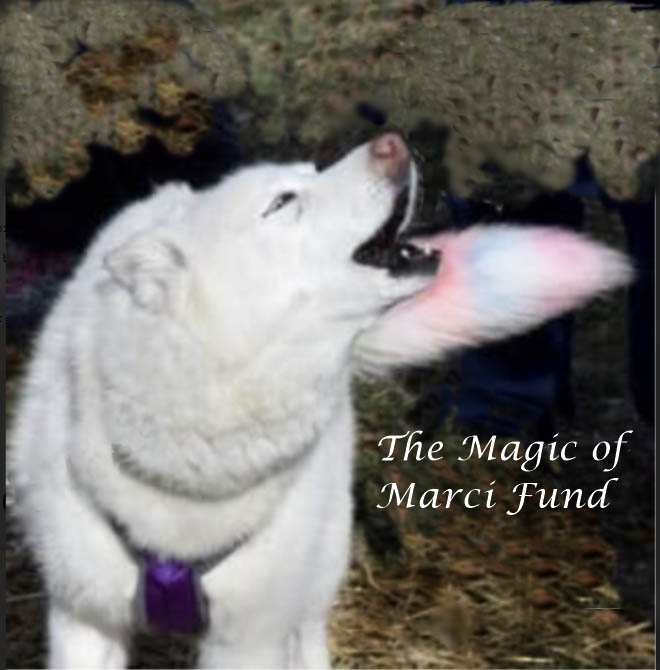 The Magic of Marci Fund has been created in memory of an incredible Siberian who colored the world beautiful. Marci found herself handed from family to family in the first several years of her life. She was busy, gregarious and bouncy without borders. Dr. Pat, a very kind and knowledgeable vet (who was with her at the Rainbow Bridge), realized her behavior might not be her fault and he was right. Marci was tested, and had a malfunctioning thyroid. Once on thyroid meds, Marci became the best girl she could be. Behavior is one of the most overlooked symptoms for thyroid disease.
Marciís fund is to help rescues identify maladies in Siberian Huskies (and mixes) in their care. It is hard to treat that which is eluding you and bloodwork, urine tests, labwork and fluid samples can be quite costly.
An excellent resource for hypothyrodism can be found at Hemopet: click here.
In addition to Thyroid diagnosis, The Magic of Marci fund will also help with testing for other diseases, such as, blastomycosis, leptospirosis and tickborne ailments. All dogs should be given the chance at a full and loving life, like Marci. If necessary, the fund will be used to help fund the original mission of SOS-SRF: to help rescues with non-routine medical expenses for Siberian Huskies (and mixes).
This fund was started by her favorite person, Dave, who championed her twice during her life to get her to the safety of a family who loved her to the moon and back. This family contributed to and introduced the fund to us (SOS-SRF). Marciís loving Auntie Clare wanted to make a difference in remembering her life, as well to help other dogs, and Marciís incredible vet, who was always there for her, is included in founding her fund. (When she was diagnosed with Degenerative Myelopathy, she received special treatments from her vet, who gave her stem cell protein injections (vivastem) for palliative care which kept her mobile and comfy for a couple more years. Chris, she loved seeing you ... thank you for extending her quality time with us)
Tammie writes, "Marci had a tough start in life. Once she was on thyroid meds, she was the best breed ambassador. On her first sledding run, I colored her tail in rainbow fashion and her "fan club" started. Every event the kids would cheer for the rainbow tail dog. It became her signature mark. She loved dogs and people and was in heaven when people surrounded her with love and pets. It is my best memory of her."
Any Siberian Husky rescue dealing with a dog that qualifies for funding from the Magic of Marcie fund can apply for funding using the application posted on our website.
PLEASE NOTE THE REQUIREMENTS AND PROCEDURES for submitting an application!! (See link on left.)
Anyone wishing to donate to the Magic of Marci Fund through PayPal can do so through the link on the upper left.
Sincere thanks to all who have donated to this fund and to SOS-SRF. There is indeed a pawprint on your heart.